This post could be called: Madrid Photo Diary, because most of the photos are from there. Big big kiss….and you already know, in you want to follow me on Instagram I'm bartabacmode!
Nueva ración de i n s t a b a c! Hoy podía haberlo llamado Madrid Photo Diary, ya que la mayoría son de allí (he estado dos veces esta semana…). Un besote, espero que os gusten y ya sabéis, si queréis seguirme soy bartabacmode. Y mañana toca post especial uñas!!!!!!!
Aujourhui mon Instagram post c'est trés Madrid! Bisous, si vous voulez me suivre je suis bartabacmode!!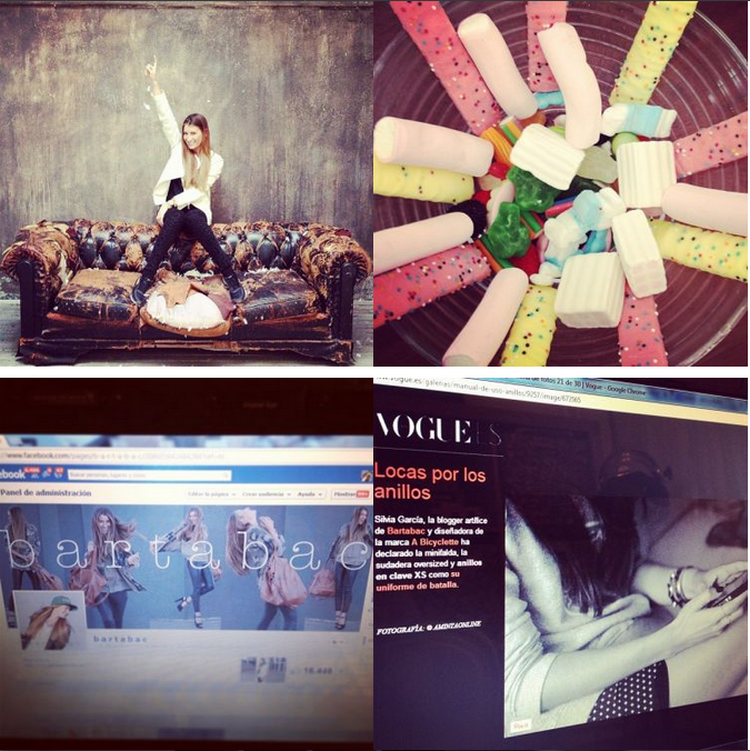 1. Shooting in Madrid last week
2. Yummmmmy!
3. My new Facebook design (I'm b a r t a b a c)
4. In VOGUE.ES!!!
5. Summer memories…
6. With my babies Silvia and Dulceida
7. Thanks Givenchy for this lovely set!
8. Look of the day in Madrid
9. The perfect sky
10. Hi!! taxi moment with Silvia
11. Bye Madrid…see you!
12. Where is the carpet? Where is the dog?
13. #ootd
14. Meeting with Vila and Pieces team
15. Sooo pretty present from TOUS!! Cute cupcake!
16. À Bicyclette bracelets (New Collection)
17. I'll try all these products from mipeluonline
18. Hair & make up for Viceroy's shoot
19. #nailoftheday Big Apple Red, O.P.I
20. The best pizza everrrrrrrrrrr
21. Sweatshirt from À Bicyclette (New Collection)
22. #ootd
23. i n s t a b a c 2 1
24. I really love breakfast!
25. In Hanoi
26. My new Estee Lauder stuff
27. #ootd
28. Ñam & Ñam
29. THANKSSSSSSSS for this 18.000.000 visits!!!
30. #ootd
31. It's time to eat!
32. Never is enough #bracelets