I had many pictures of i n s t a b a c because I didn't publish last week … and I still have a lot,but for now I show you this collection and as you see I have put them bigger to make them look better. Happy Sunday and see you in Instagram …. I'm @bartabacmode!
Os debía muchas fotos de i n s t a b a c porque la semana pasada no publiqué…y aún me quedan un montón por enseñaros, por ahora he hecho este recopilatorio y como véis las he puesto más grandes para que se vean mejor. Feliz Domingo y nos vemos por Instagram….soy @bartabacmode!
J'ai beaucoup de photos d'i n s t a b a c sans vous montrer car je n'ai pas publiée la semaine dernière, mais pour l'instant je publie cette collection et un peu plus grandes, mieux, non?. Happy Sunday et on se voit sur l'instagram …. je suis @bartabacmode!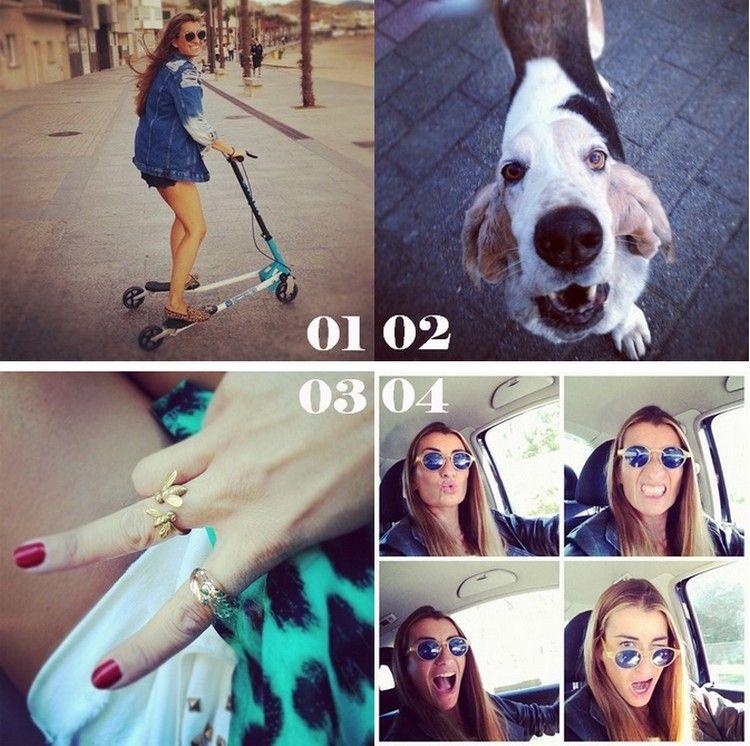 01. Yuhuuu…. (Asos jacket and Believe slippers)
02. Instawhat??????
03. À Bicyclette mini animal rings
04. In a backup (Epos sunnies vía Óptica Guía)
05. #shoesoftheday Asos heels
06. Asos total afterwork look
07. Yesterday wearing Asos distressed denim jacket, Marc Jacobs tee and 21Diamonds necklace
08. In the #StreetStyleDay
09. Cute Hello Kitty headphones from SUITEBLANCO
10. Post on the blog for the Givenchy day!!
11. Wearing Romwe skirt and À Bicyclette tee
12. Western girl: Pertini and Zara boots
13. New Givenchy lovely things
14. Wearing my super studded shirts from Romwe
15. #newin Romwe tee, Isabel Marant sneakers, Dita sunnies vía Óptica Studio
16. Wearing Lee shirt, American Retro pull and Ba&sh skirt
17. At the airport, with leather Zara pants, Isabel Marant sneakers and Céline bag
18. Dinner in a Grecian restaurant, in Madrid
19. With À Bicyclette dress and Pull&bear perfecto
20. #newin Welcome home Isabel Marant sneakers!
21. Beauty essentials from Kiehl's
22. Ar the airport, wearing SUITEBLANCO pants and sneakers
23. I love the Givenchy masc!
24. S&S
25. #newin #nailsoftheday O.P.I Germany Collection
26. At the airport, with À Bicyclette dress and Georgia Rose ankle boots
27. Going for a walk with my Steed (Zara tee, Believe slippers and Pieces bag)
28. #shoesoftheday SUITEBLANCO studded stilettos
29. Detail: À Bicyclette dress, Out of cage leather bracelet, O.P.I nails
30. Wearing Zara leather jacket, Zara shorts and Romwe shirt
31. Last friday with Vila top, Levi's and Pieces bag
32. Crazy Coca-Cola rollers
33. It's hard wake up so early…
34. In the Factory StreetStyleDay with Dulceida, Ester and Sara
35. Wearing Zara jacket, Isabel Marant sneakers and Chanel bag
36. I met these lovely b a r t a b a c followers on the street!!!
37. Packing… (Zara leather SUITEBLANCO dress, Levi's shorts, Dita sunnies, Chanel bag)
38. Coming back from a colab
39. With Gicenchy
40. Givenchy surprise!!
Photos by P. Soury & me