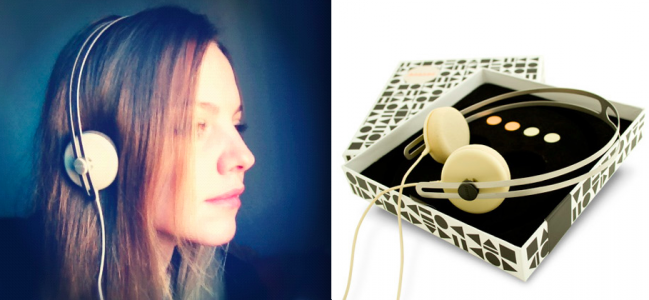 Escucho música a (casi) todas horas del día: en casa; en el metro, bus; gimnasio; de viaje; etc. Cuando te acostumbras a escuchar música con cascos grandes & con mejor calidad de sonido, es difícil re-acostumbrarse a usar cascos pequeños.
Hay situaciones en las que tampoco puedes ir con cascos enormes. El mes pasado me compré estos cascos "Tracks", de Ai Ai Ai. Me los prestó una amiga, y me encantaron. El tamaño es perfecto para poder llevarlos a todas partes; tienen micro incorporado (por si quieres usarlos mientras hablas por teléfono) y cancelan bien el ruído. Además, viene con piezas de diferentes colorores que puedes cambiar, montar & desmontar como un puzzle 😀
Lx
I listen to music on a day to day basis: at home; walking; on the metro; bus; at the gym; when travelling; etc. A couple of years ago I started listening to music with bigger headphones, with better sound quality. On some occasions I couldn't really take them with me- times where I'd have to go somewhere slightly more formal, or out to dinner with a tiny handbag & have nowhere to put them. I would find it hard to get used to smaller, basic headphones. The sound is completely different.
I bought Danish brand Ai Ai Ai's "Tracks" headphones last month. I was looking for something that would offer good audio quality, without being as bulky as most headphones that have the same characteristics as these do. The size is perfect to take anywhere; they're noise cancelling; and have a built in microphone- which is perfect if you listen to music/make phonecalls on the same device. Also, it comes with pieces in different colours, so you can take the headphones apart and mix & match it with different colours 😀


Lx