¡Hola! Buenos lunes a tod@s. Qué mejor manera de empezar la semana que con un DIY. Os presento a Claudia. La conocí hace tiempo y me encanta su buen gusto en todos los temas que trata en su blog
Clo by Clau!
desde moda, DIY, repostería… No dejéis de echarle un vistazo. Os dejo con ella.
Hola, me llamo Clau!, soy de México y tengo un blog desde el 2009, se llama
Clo by Clau
y ahí publico cosas que me inspiran como moda, streetstyle y fotografía, mi sección de DIYs es la que mas visitas tiene, además de eso en ocasiones publico cosas de decoración y repostería y en algunas ocasiones algunos de mis outfits.
Hi! My name is Clau!, I am Mexican and I have a blog since 2009, its name is Clo by Clau. In my blog I post about things that inspire me like fashion, streetstyle and photography, my DIY section is the one that has more visits, besides that I occasionally post about decoration and desserts and in few occasions some of my outfits.
La inspiración de este collar la puedes ver en mi post titulado
Peter Pan Collar Necklaces
.
You can see the inspiration for this collar in my post called Peter Pan Collar Necklaces.
Aquí está mi versión, es muy sencilla. Here is my version, it's really simple.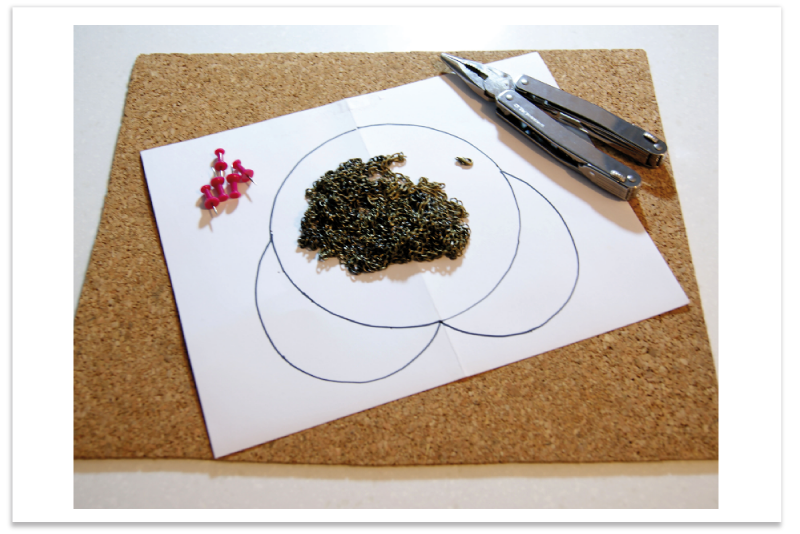 Para este DIY necesitarás. For this DIY you will need:
• Cadenas, gancho para collar y aros (se pueden conseguir en cualquier tienda de bisutería, las venden por metro) – Chains, hook and Metal loops.
• Unas pinzas (no tienen que ser especiales, yo use las de mi esposo) – Pliers (don't have to be special pliers, I borrowed from my hubby).
• Un papel en blanco – Paper.
• Corcho y pines – Cork and pins.
Lo primero que hay que hacer es dibujar el contorno del collar en el papel en blanco. Para hacerlo te tomas la medida del largo que quieres tu collar y se dibuja el circulo, puede buscar algún objeto en casa que sea de ese perímetro, yo use un plato de mi cocina. De ese mismo modo dibujas el cuello.
The first thing you have to do is sketch the contour of the necklace in the paper, you have to measure the length you want it and then draw the circle, you can use any round object with the same measure you have at home, I did use a plate for example. In the same way you draw the collar.
Cuando está listo el dibujo lo colocas sobre el corcho y vas colocando una de las cadenas en el perímetro del collar y la sujetas con los pines, de esta forma sabes el largo que necesitas. Así que abres el eslabón a la distancia deseada ayudándote con las pinzas, colocas el ganchito y vuelves a cerrar el eslabón, haces lo mismo del otro extremo para colocar el aro. Después de tener listo el contorno del collar hacemos lo mismo con el cuello. En el centro del collar use un aro para unir las dos cadenas que forman el cuello.
When the sketch is ready put the paper on the cork and start placing the chains in the contour of the necklace, you can fasten then with the pines, then you know the length you need so you open the chain link at that distance, for this step you need the pliers, then you put the hook in one side and close again the chain link, do the same in the other side to put the metal loop. After you finish the contour of the necklace do the same with the collar. In the middle of the necklace I did use one metal loop to chain both sides of the collar.
Ya que está listo todo el contorno vamos colocando las cadenas para rellenar cada una de los lados del cuello, yo hice un lado primero para ir midiendo la distancia entre una línea y otra y ya que quedo listo un lado es más rápido hacer el otro ya que solo mides los eslabones de distancia que dejaste de un lado para que te quede simétrico.
Once you finish the contour start adding the chains to fill the collar, to make sure you do It symmetrically I suggest doing one side first then you only have to count the chain links skipped in one side and leave the same in the other side.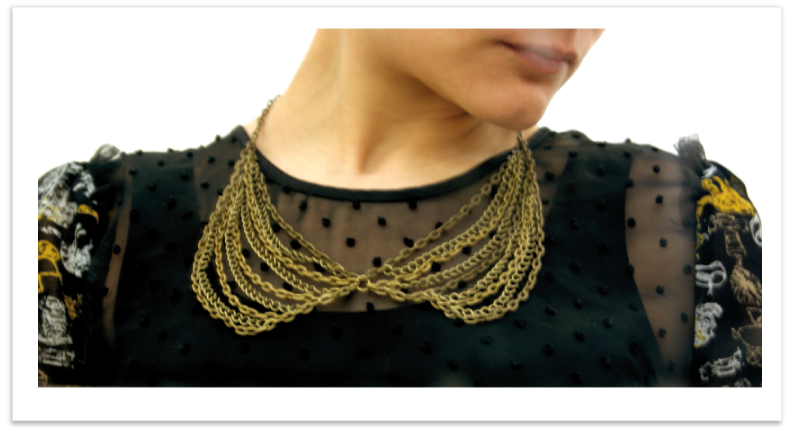 Y es todo… And that is it…
Espero que les haya gustado.
I hope you liked it.
Saludos,
Clau!